The Kickstarter campaign is now approaching the half way point, it's crazy to think it's been going for a couple of weeks already. Time has flown! Don't forget to check out the reward tiers and think about pledging, it will all go towards making this a great experience.
http://www.kickstarter.com/projects/alexdawson/will-to-survive-a-real-time-survival-rpg-with-alie
Now, onto some more info…
Ammo
Ammo is a bit different in Will to Survive, you'll be able to find different types of each round and will even be able to craft your own once you have learnt how. You could be adding phosphorus to some shotgun shells to create incendiary ammo or applying unknown alien liquids to the tips of bullets to test the effects. Everything that you can collect in the game will have a purpose, that purpose could just be to harvest chemicals or other supplies… ever wondered how much gunpowder is in a firework?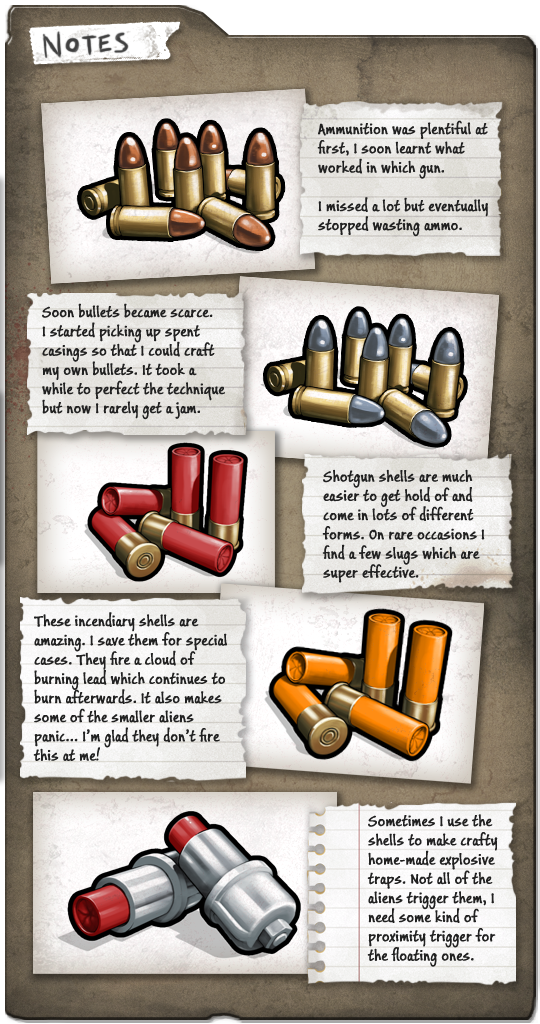 Survivors
Not many survivors live in the world now and the ones who are left tend to lead solitary lives hiding away as best as possible. They don't want to get caught by the aliens who threaten their very existence.
When you do come across a new survivor you may need to gain their trust before they help you out. Once you are acquainted you may find that they have items to trade, tips or info to share and may even have quests for you complete. It's important to try and look after your fellow humans, failing to aid them when they are in urgent need of help could mean they no longer exist. If the aliens have less humans to search for they stand a higher chance of finding you!
Until Next Time!Alex